Editor's Pick
Reportage on Politics by Quijano de Manila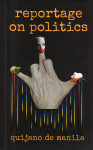 Reportage on Politics is a compilation of Nick's previously published articles in dailies about the goings-on in Philippine politics from 1961 to 1970 written under the pen name Quijano de Manila.
Whether you dig politics or not, you'll find this political album entertaining because it's chockfull of narrative, profiles, real-life dramas, observations of our society, studies of our culture. And what a nostalgia trip, too, for many of today's readers.
Remember when ancient Amang Rodriguez dyed his locks black? Remember those naughty jokes on Roger de la Rosa's "untimely withdrawal"? Remember the Macapagal-Marcos battle of biographies? Remember the party conventions when B-girls shared the limelight with NP and LP, and political life indeed was a cabaret, old chum?
In this book, the bad old days live again. Here's a wealth of detail for the biographer, a wealth of material for the historian. And for the common reader, a wealth of good old dirty fun.
Reportage on the Marcoses by Quijano de Manila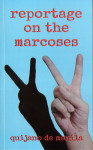 "And as Filipinos acquire a feeling of pride for what is theirs, for what they are, they will become more eager to surround themselves with order and cleanliness, to walk in beauty, to live, move and have their being in a just society. Culture and art and a taste for the beautiful must all lead to goodness.
"As the president said, the government is like building a house. And he told me he would build the structure, I was to take care of the refinements, the trimmings, the details . . ."
— Imelda Marcos
Quijano de Manila's Reportage on the Marcoses features essays on the lives of Imelda and former President Ferdinand Marcos covering his political career and their courtship from 1964 to 1970.
This collection of articles were based on Quijano's—Nick Joaquin—extensive interviews with the presidential couple back in the '60s. It was then compiled and published as a book in 1979 by National Book Store and was reprinted in 1981. Anvil Publishing, Inc. reissued it in 2013 after rereleasing Nick's other notable titles in the reportage series: Reportage on Crime (2009), Reportage on Lovers (2009), and Reportage on Politics (2013).
Penned in the '60s, the essays in this book give readers glimpses of the former president's political and love life in the good old days. Quijano's early writings on the Marcos couple might serve as useful lessons for the next generation. Above all, Reportage on the Marcoses reminds us all of the standing of the Philippine politics—show business.
You can buy book here: